North County Weather Links
Riviera Beach to Jupiter Florida
Current alerts will appear as red alert bar on top of effected city
weather banner.
Get Real Time Local Weather From Local SKYWARN Volunteers
CWOP Personal Weather Stations Below.
| | |
| --- | --- |
| Jupiter | Jensen Beach |
| Palm Beach Gardens | West Palm Beach |
Citizen Weather Observer Program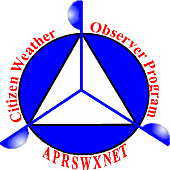 Local CWOP Personal Weather Stations

Real Time Local Weather from Local Skywarn Volunteer Personal Weather Stations
Do you have a PWS and would like to have a link here? Send me your stations CWOP or FL ID number here
West Jupiter John W4JKJ's PWS- CWOP ID; W4JKJ2 / Hm WX Page
Central Jupiter / Mathew KC8NZJ's PWS- CWOP ID; KC8NZJ-1
| | |
| --- | --- |
| No Data For KC8NZJ-1 | No Data For KC8NZJ-1 |
Central Jupiter / Robert's PWS- CWOP ID; DW 1582

South Florida Radar
NOAA Weather Radio
NWR requires a special radio receiver or scanner capable of picking up the signal.
County

City

Frequency / Channel

SAME Code

Palm Beach County

Belle Glade

162.400 MHz / Ch-1

012099

West Palm

162.475 MHz / Ch-3

012099

Hendry County

Belle Glade

162.400 MHz / Ch-1

012051

Ft Myers

162.475 MHz / Ch-3

012051

Naples

162.525 MHz / Ch-6

012051

Glades County

Belle Glade

162.400 MHz / Ch-1

012043

Ft Myers

162.475 MHz / Ch-3

012043

Naples

162.525 MHz / Ch-6

012043