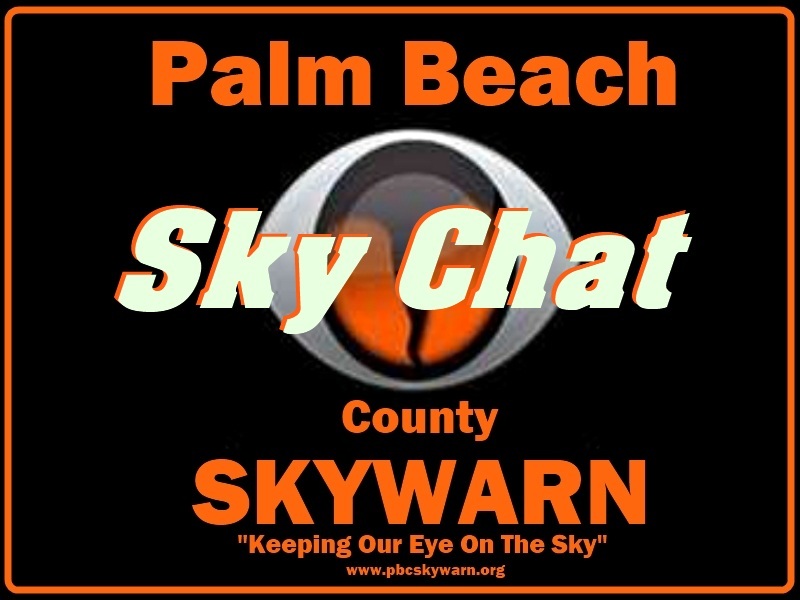 The PBC Skywarn Live Chat Room is a chat room for certified National Weather Service Skywarn Spotters or a Skywarn served Emergency Services / Public Safety agency.
This will allow all spotters and served agencies to communicate with each other and pass and receive real-time weather information and data for the NWS WFO Miami.
IRC server allows you to log onto the SkyChat chat room using above log-in portal. You are not required to join or set a password. This IRC portal is open source and allows user to enter the PBC Skywarn Chat room. PBC Skywarn has used password dedicated chat rooms in the past which users did not like due to joining.
This IRC will work on any modern web browser such as Foxfire, Chrome and IE. There are Mibbit apps for IPhone
The chat room will activate upon a Skywarn activation and or training.
To Use
Use your NWS issued Spotter ID number as user name. If licensed amateur radio operator, please sign in with your call sign or include your call sign at end of your Spotter id#. Example: DG1287 or DG1287 / BB7ZZZ
Usage Guide
Use chat room for weather and / or amateur radio related topics

If posting weather data, state if data is estimated or measured.

Unless you request due to hardship or are requested by moderator, do not substitute posting weather data in chat room that should be reported to WFO-Miami via the Spotter phone number.

No foul or disruptive language. You can be banned by moderator and Mibbit. This could affect you on other IRC servers.

Be sure any copyrighted material you post, you have owners permission to post.
Anything you post is open to all viewers and is stored in the cloud.
Remember.."Once you hit send...It's In" & "Once it's in...You can't take it back again!
Note:
Other Skywarn groups, ARES groups and the Maritime Mobile Service Network NCS operators have used and may continue to use the SkyChat chat room by reserving it through the PBC Skywarn coordinators.
It severe weather events or crisis, some or all area emergency / special service organizations may utilize the chat room to assist in mission statement to our served agencies.