Heat is one of the leading weather-related killer in the United States, resulting in hundreds of fatalities each year. In the disastrous heat wave of 1980, more than 1,250 people died. In the heat wave of 1995 more than 700 deaths in the Chicago area were attributed to heat, making this the deadliest weather event in Chicago history.

In August 2003, a record heat wave in Europe claimed an estimated 50,000 lives.

South Florida is home to high heat and high humidity. These two "Highs" can combine making the "Apparent" or "Heat Index" temperatures dangerous to the human body.

This can be accelerated by being exposed to high heat and or high humidity in direct sunlight and or high dry winds. Also if wearing dark clothing. The Apparent or Heat Index value could be as high as +15 degrees higher then what you calculate using the below Heat Index Chart


Why is heat a hazard?

The body must get rid of excess heat to maintain a stable internal temperature. It does this mainly through circulating blood to the skin and through sweating.

When the air temperature is close to or warmer than normal body temperature, cooling of the body becomes more difficult. Blood circulated to the skin cannot lose its heat. Sweating then becomes the main way the body cools off.

But sweating is effective only if the humidity level is low enough to allow for evaporation, and if body fluids and salts that are lost are adequately replaced.

If the body cannot expel excess heat, it will store it. If the body stores this excess heat, the body's core temperature rises and the heart rate increases.

As the body continues to store heat, the person begins to lose concentration and has difficulty focusing on a task, may become irritable or sick, and often loses the desire to drink. The next stage is most often fainting and even death if the person is not cooled down.

Who is at risk?
While anyone can become a victim of a heat related emergency, those who work or play in a high heat or combination of heat and high humidity environment are at greater risk.

Who is at greatest risk?
Those at greatest risk for heat-related illness include infants and children up to four years of age, people 65 years of age and older, people who are overweight, and people who are ill or on certain medications. Ask your doctor if current medication makes you more susceptible to heat related stress or illness.
____________________________________________________________________

HEAT RELATED EMERGENCIES
Heat cramps
Muscular pains and spasms that usually occur in the legs and or abdomen. Heat cramps are often an early sign of heat related stress.

Heat exhaustion
Heat exhaustion can develop after several days of exposure to high temperatures and inadequate or unbalanced replacement of fluids. Those most prone to heat exhaustion are elderly people, those with high blood pressure, and those working or exercising in a hot environment.

What are the warning signs of heat exhaustion?
Heavy sweating
Paleness
Muscle cramps
Tiredness
Weakness
Dizziness
Headache
Nausea or vomiting
Fainting

Heat Stroke?
Heat stroke is the most serious heat-related illness. The body can no longer control its temperature. The body's temperature rises rapidly, the sweating mechanism fails, and the body is unable to cool down.
Body temperature may rise to 106°F or higher within 10 to 15 minutes. Heat stroke can cause death or permanent disability if emergency treatment is not provided.

What are the warning signs of a heat stroke?
An extremely high body temperature (above 103°F)
Red, hot, and dry skin (no sweating)
Rapid, strong pulse
Throbbing headache
Dizziness
Nausea
Confusion
Unconsciousness
For First Aid and treatment, consult your doctor or visit the Red Cross here
_____________________________________________________________________
Precautions
Listen to a NOAA (National Oceanic and Atmospheric Administration) Weather Radio for critical updates from the National Weather Service (NWS).


Never leave ANYONE or pets alone in enclosed vehicles.


Stay hydrated by drinking plenty of fluids even if you do not feel thirsty. Avoid drinks with caffeine or alcohol.


Eat small meals and eat more often.


Avoid extreme temperature changes.


Wear loose-fitting, lightweight, light-colored clothing. Avoid dark colors because they absorb the sun's rays.


Slow down, stay indoors and avoid strenuous exercise during the hottest part of the day.

Postpone outdoor games and activities.


Use a buddy system when working in excessive heat.


Take frequent breaks if you must work outdoors.


Check on family, friends and neighbors who do not have air conditioning, who spend much of their time alone or who are more likely to be affected by the heat.


Check on your animals frequently to ensure that they are not suffering from the heat.
_____________________________________________________________________
Measuring Heat Index.
Find your current temperature and humidity

Use below chart and find where known temperature & humidity intersect. That will be the Heat Index or Apparent temperature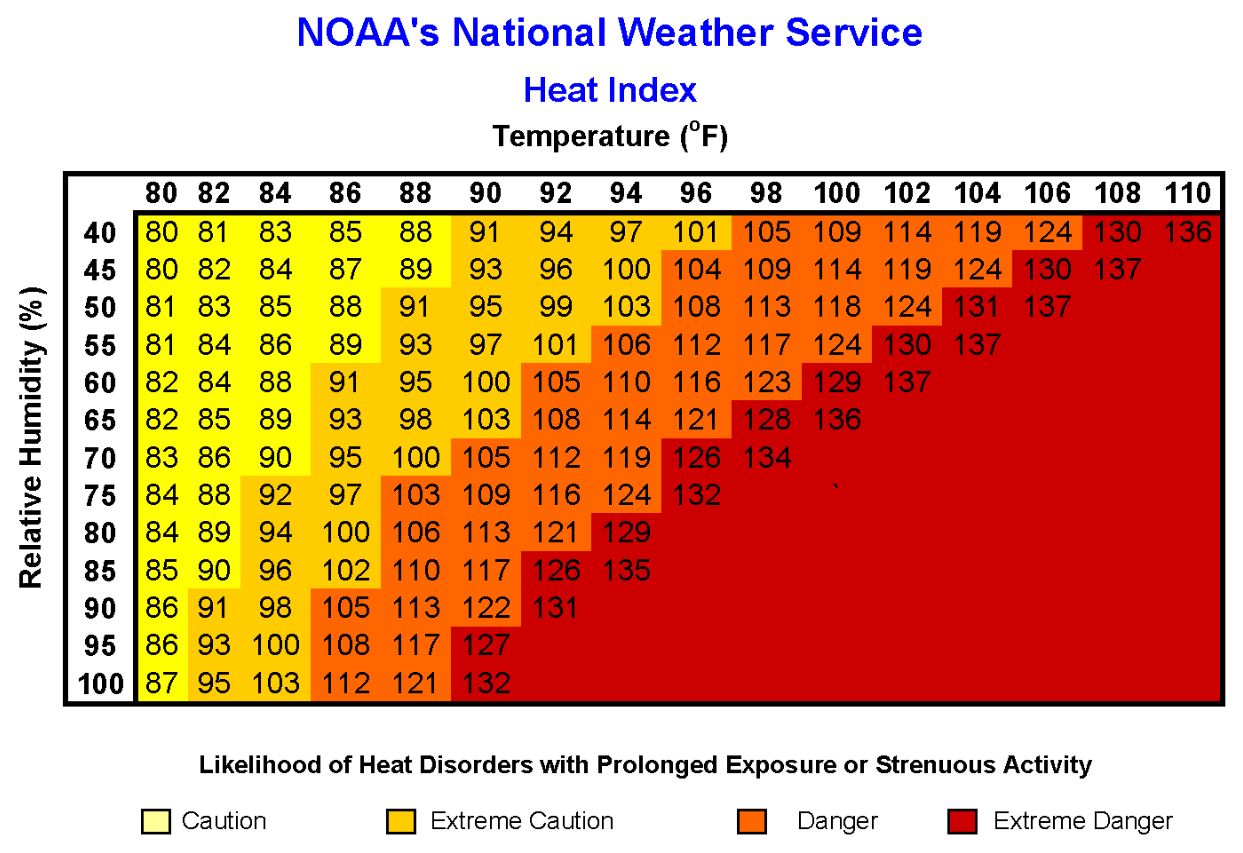 IMPORTANT: Heat Index values were devised for shady, light wind conditions, exposure to full sunshine can increase heat index values by up to 15°F. Also, strong winds, particularly with very hot, dry air, can be extremely hazardous.
You can get the Heat Index by using the NWS On-Line Calculator here
Want to do the math ? Get the Heat Index equation formula here. (Good Luck)
_____________________________________________________________________

OSHA Heat Safety Tool Mobile App


App allows you to calculate the heat index and based on the heat index, displays a risk level. Then, with a simple tap, you can get reminders about the protective measures that should be taken at that risk level to protect workers or others from heat-related illness. Click Here or visit the Google Apps Store
Resources:
Lightning Radar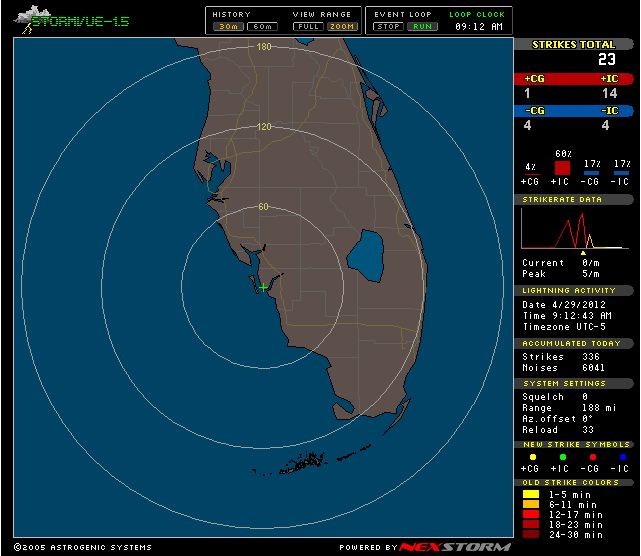 Interactive Radar
US Weather Maps
Live Local NOAA All Hazards Radio
| | | |
| --- | --- | --- |
| Location | Station ID | Frequency |
| | KEC50 | 162.475 |
| Miami | KHB34 | 162.475 |
| Melborne | WXJ70 | 162.550 |
Contact PBC Skywarn
Coordinator:
Maurice Dake K9EE
561-374-4249
Assistant Coordinator:
Ray Ruby WX4PBC
561-261-1224
wx4pbc@yahoo.com
NWS Skywarn WFO Miami
Robert Molleda
305-229-4520 robert.molleda@noaa.gov
Skywarn Repeater:
146.670 -600 PL 110.9
Heat Related Term
Heat Wave - Prolonged period of excessive heat, often combined with excessive humidity.
Heat Index - A number in degrees Fahrenheit (F) that tells how hot it feels when relative humidity is added to the air temperature. Exposure to full sunshine can increase the heat index by 15 degrees.
Sun Stroke - Another term for heat stroke.
Excessive Heat Watch Conditions are favorable for an excessive heat event to meet or exceed local Excessive Heat Warning criteria in the next 24 to 72 hours.
Excessive Heat Warning - Heat Index values are forecast to meet or exceed locally defined warning criteria for at least 2 days (daytime highs=105-110° Fahrenheit).
Heat Advisory - Heat Index values are forecast to meet locally defined advisory criteria for 1 to 2 days (daytime highs=100-105° Fahrenheit).