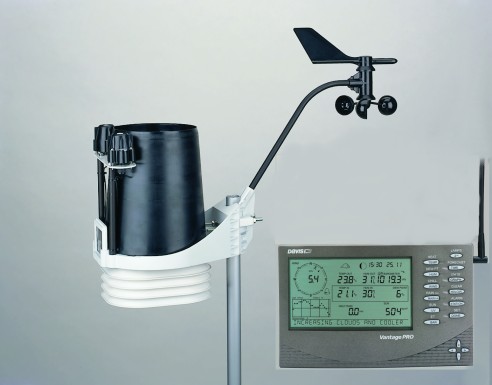 Davis Vantage Pro 2 Wireless
Model # 6152
High Quality _______________________________________________________________________________________
A Personal Weather Station Or PWS is a private or non-commercial weather station. Many amateur weather enthusiasts maintain PWS for personal use and provide local weather data to the National Weather Service and commercial weather services such as Weather Underground, PWS Weather, Ambient Weather etc.
These PWS provide important weather data to the NWS which aids the NWS in monitoring weather throughout the US and it's territories.

This information assists the NWS in observing ever changing weather and verifies what their data shows or does not show.
Who may operate a PWS ?
Anyone may operate a PWS and provide weather data to the various services.
What do I need to set up a PWS ?
You will need a quality weather station you can purchase as a complete station or assemble from quality components.
To learn more on getting started and station selection click here from the Weather Underground PWS Guide
To set up (sitting) station for high quality data suitable to join the Citizen Weather Observer Program or CWOP , read and download their CWOP Guide here.

Setting Up PWS to Send Data
To send data via the internet to NOAA's CWOP, your software must be able to send in APRS message format.
You are not required to use a radio interface for the CWOP program. If your have an internet connection, your weather station interfaces with your computer, and you have weather data logging software that can format and send APRS messages (VWS, WeatherDisplay, WeatherLink, WeatherView32, Cumulus etc.), via the internet, your all set to go.
You can sign up for CWOP at this link.
http://www.wxqa.com/SIGN-UP.html This will walk you through the sign up process.
If you need APRS data sending software, select a program such as VWS, WeatherDisplay, WeatherLink, WeatherView32, Cumulus etc.
See software links below.
Upon signing up with CWOP you will receive an ID number and password.
You can use your amateur radio call or for those who are not hams, they will receive a CW or DW id. With the CWOP id and password, you can set up the APRS sending software to send to APRS/CWOP.
You can then sign up for on-line weather sites such as Weather Underground. They will assign you a id and password.
If you have a Weather Underground id, we can place a weather banner with your data on the page. (See below)
NOTE: Your station must meet and maintain quality data standards as set by NOAA's CWOP and MADIS
Set Up Example: 5/10/11 PWS ProWeatherStation TM Station CWOP ID: WX4PBC MADIS ID: AT683 Weather Underground ID:KFLBELLE13 APRS Logging Software: Cumulus Version 1.9.1 (Free Download)
1) Register with CWOP and obtain ID number and set password.
2) Register with Weather Underground and obtain ID number and
set password
3) Download APRS data logging software on computer.
(This example uses Cumulus 1.9.1)
4) Open Configuration menu and open Station (Example -1)
5) Set Type of station. If not listed, use FineOffset
6) Set Lat & Long. These will need to be exact.
7) Set Altitude. This will be your known height above sea level (ASL)
Example-1 : Setting Station Settings
Example 2 : Confirm WX Station Data is Running in APRS Logging Software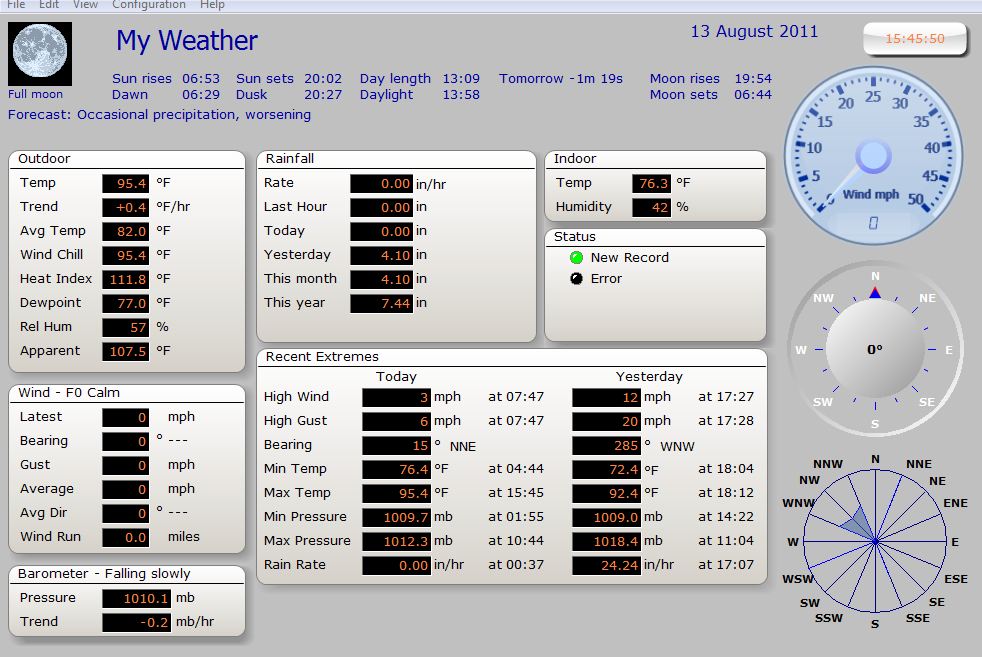 Example 3 : Enter Your ID numbers & Passwords and Hit OK.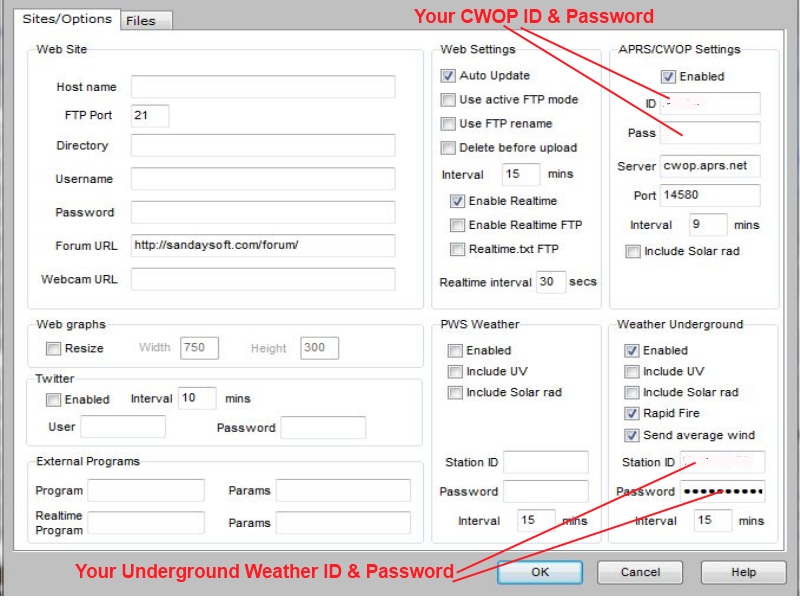 These examples are using SandySoft Cumulus 1.9.1but are typical set up instructions.
Once your station is providing data to the internet via Weather Underground or other web based data supplier, e-mail Ray WX4PBC (Webmaster) with your station ID and your PWS will appear on our site.
Widget Example: Update 5/2/15 New Davis Vantage station Wx4pbc uploaded with Davis WeatherLink IP

See below *NOTE on Davis weather stations & proprietary interface cables.

Weather Stations (Hardware)

European Resellers

Link to Buyer's Guide from Ambient Weather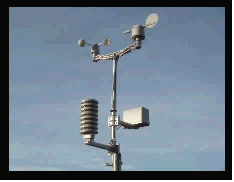 ProWeatherStation TM

Model #TP1080WC
Good Quality
"The best computer weather station is the ProWeatherStation Wireless Data Logging Weather Station."
Source:
weatherstationexperts.com

Known by many different brand names & suppliers
Weather Stations (Software)

* NOTE: While most weather stations come with a console to PC interface cable, Davis Instruments weather stations do not come with console to PC or Internet interface cables.

User must purchase the correct interface cable or either WeatherLink software for data logging and PC interface module / cable or WeatherLinkIP software which come with logger module and console to PC / Wifi router interface cables.

If you can obtain a stand-a-lone data interface cable, you can us other logging software such as Cumulus with a Davis Instrument station.

These cables are proprietary to Davis Instruments weather station consoles.

If looking to download weather data to computer or upload your weather data to the internet, be sure to confirm the weather station is compatible for PC interfacing and what connection cables if any come with your station or what type cables you will need to purchase.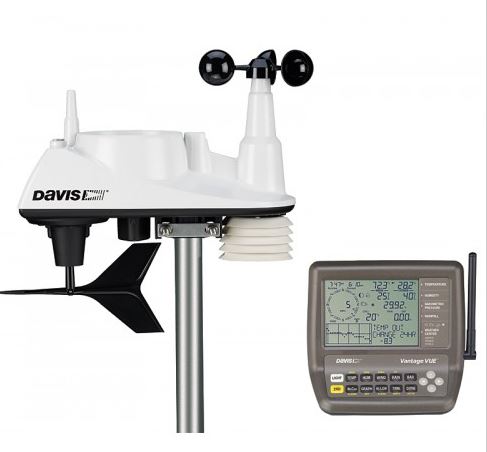 Davis Vantage Vue Wireless
Model #6250
High Quality

"The overall best weather station according to online
weather station ratings".
Source:
weatherstationexperts.com
PBC Skywarn does not promote or support any product or service over another.
All information presented here as to price, product availability or quality is solely to assist visitors in available resources.
PBC Skywarn PWS Weather Around Palm Beach County

K9EE: Lake Worth / Lantana
WX4PBC: Belle Glade
Wx4pbc Real-time Davis station data Wx-page
W4JKJ West Jupiter
Boca Surf Cam